1. Make it
unique

to your brand
At Instacard, we celebrate uniqueness. Our platform empowers you to craft a digital business card that is as distinctive as you are. Customize every detail to the pixel, reflecting your personal brand in all its glory.

In the world of generic business cards, where cookie-cutter designs dominate, Instacard emerged as a beacon of individuality and creativity. It all began with a vision to empower professionals like you to craft a digital business card that truly reflects who you are—a vision where each pixel mattered.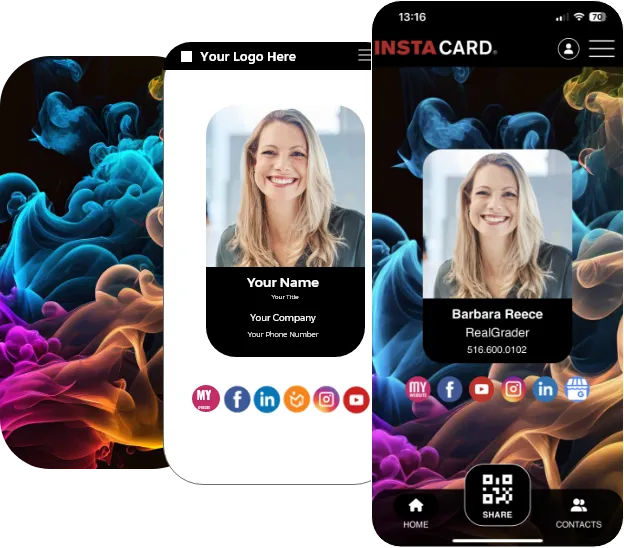 2.
Share it

with the world
In a world driven by connections and networking, sharing your Instacard is more than just a transaction of contact information—it's an invitation to unlock a world of possibilities. When you share your Instacard with the world, you're not just giving out a digital business card; you're presenting a glimpse of your professional identity and personal brand.

With Instacard's seamless social media integration, sharing becomes an opportunity to build bridges across various platforms. Whether it's Facebook, LinkedIn, or Instagram, your Instacard brings all your social media profiles under one roof. This cohesive digital portfolio not only streamlines your online presence but also fosters trust and credibility among your audience.

Share Instacard, Social Media, Reviews, Contact.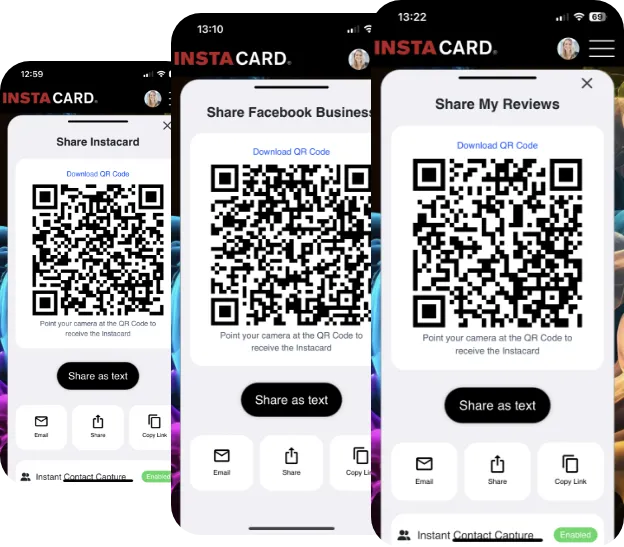 3.
Instant

Contact Capture
In the fast-paced world of networking and business, every moment counts. That's why we introduced Instant Contact Capture— a revolutionary feature that transforms the way you connect with others. Gone are the days of manually exchanging contact information or relying on outdated methods. With Instant Contact Capture, the power of connection is at your fingertips.

When you meet someone and want to share your information, simply present your Instacard, and the magic begins. Instant Contact Capture allows the recipient to quickly and effortlessly capture your contact details with a single tap or scan.

As the Instacard owner, you'll receive an email notification with all the captured contact details, ensuring that you never miss an opportunity to follow up and nurture your connections.